Family Camp at Portsea
May 12, 2017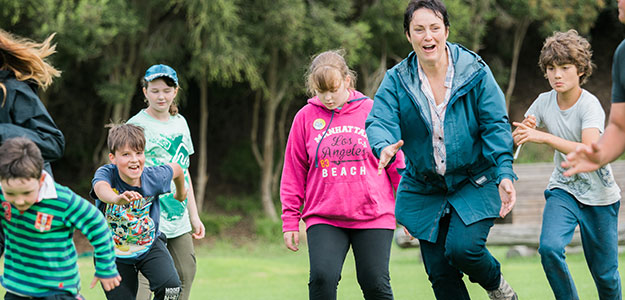 The highlight event of Interchange Outer East's Family Support program would have to be family camp.
For a couple of decades IOE has held an annual camp for the whole family, usually at Coonawarra Farm resort in Gippsland over the March long weekend. This gives families of children with disabilities the opportunity to get away together for a few days of fun and camaraderie with other families in a relaxing and supportive environment – something which would otherwise be impossible for many. In 2012 the opportunity arose for IOE  to run a second camp In November at Portsea, taking advantage of the early summer and the beach location. This camp aimed to bring together families who were either new to IOE or had little exposure to IOE services.  Being smaller than Coonawarra, it proved a perfect environment for new families to be introduced to IOE's culture of fun, other families, staff and volunteers.
This year IOE has been fortunate in that Lions Club have agreed to fully fund a family camp at their Licola campsite in November meaning this year's  Portsea camp was brought forward to April.
Cathy Handy, who has worked at IOE for the last six years, went along to this recent camp and has shared her observations of her first family camp experience with us. For about 80% of the camp participants this was their first IOE family camp too!
'Family camp has always had the reputation of being a fun event, you only have to see the photos from past camps – smiling faces everywhere, whether they are covered in mud, swinging through the air on giant swings and flying foxes – usually with a hint of terror as well – wet from swimming or just looking blissfully relaxed – there are always smiles. But this camp I learnt that what really makes family camp so great is not just the fun and activities but the subtle, 'not so obvious to the outsider' stuff.
Like the friendships I observed being formed, new families being welcomed and embraced by other IOEers. The overwhelming feeling of no-one being judged, of families being able to be themselves, of not having to worry about how their children appear to other people. As someone who grew up with disability in my family, that was always something I was acutely aware of, and embarrassed by – of being different to other families and of us standing out by our difference. So to see families so relaxed and comfortable for me was wonderful.   I loved seeing the kids being kids – having so much fun, being brave and pushing their boundaries, trying new experiences and having the freedom to be themselves.
While the weather was less than perfect, it didn't slow people down. No-one seemed to mind the weather they just got on with enjoying themselves! Some of the kids were even brave (or crazy) enough to go for a swim in the sea!
Camp gave me an added appreciation of our IOE volunteers. I was so impressed by how skilled and capable they were, many well above their young years. I observed how quickly they built trust with families, which allowed parents more time to relax, knowing their children were off having fun and being well cared for by the vollies. And of course Fred, our CEO, was in the midst of it all, I see him as the glue of family camp, always showing the IOE culture and values by example.
Another bonus – being both competitive and somewhat prone to accident, I came away with only one small bruise from wanting to be the winner in 'duck, duck, goose'. That was a win in itself!
At the end of the weekend, I was left with a warm and fuzzy, feel-good feeling from being a part of something that I know had such a positive effect on all the families who attended – something that was really good."
Photos by Gary Radler Photography http://www.garyradler.com/