Exploring Family – 24 Hour Theatre
July 4, 2016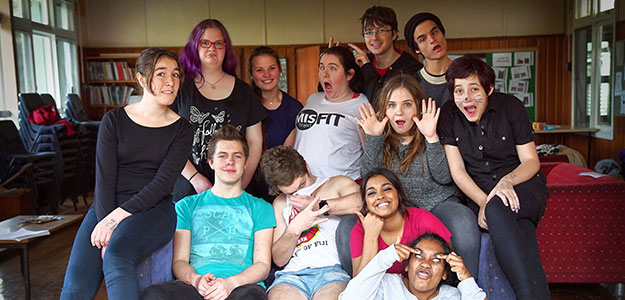 On the first weekend of June I had the pleasure of taking part in The MISFIT Projects 24 Hour Theatre for Siblings. This wasn't my first 24hr Theatre and it won't be the last. This one was different though as it was split up over 3 days from the Friday night to the Sunday, instead of a solid 24-hour period. The subject of the weekend was 'Family'. What family meant to us individually, what family was, what it is, will be and isn't.
A blow-by-blow analysis of the weekend would look something like this:
At the beginning we all got into a group and sat in a circle. We had two massive sheets of butcher's paper in front of us and we had to write out everything we could think of that relates to family. We filled both pieces of paper. After this we told each other in succession about our family, how many siblings we had, whether our parents were together or split up or were of the same sex. I'm not lying when I say we had a lot of different variations of family. I believe the sibling amount ranged from 1 to 14. After we had all shared, we had dinner and pretty much wrapped up for bed.
The next morning, we rose bright and early to warm up and begin. We each wrote a monologue about what family means to us. After this we were split into two groups. Over the course of the next 6 hours we brainstormed, constructed, and otherwise nearly finished our two pieces. The only trouble was rehearsing, lines, blocking and staging. Beyond that everything kind of melts into each other in my memory. I do remember eating a lot, food was always available. Once we had finished up at the campsite we moved over to the Millgrove Community Centre, about half an hour before we needed to perform.
We had developed our monologues into one cohesive piece and all stood in front of the audience and said them in pieces. Then our two group pieces.
I guess what I really want to say is, I couldn't pick a more perfect way to have done it, the experience was unparalleled,in my opinion, to any 24hr Theatre I've done before. I felt comfortable and at home with people I knew and people I didn't know that well. Of course by the end we literally became like a massive family. I developed a particularly sibling-rivalry-esque relationship with one of the participants. They know who they are.
by Boadie Morrissey (16)
Interchange Outer East is grateful to Uniting Care Life Assist for funding the Siblings 24 Hour Theatre.
Check out the video of the group 'bringing it all together'  https://www.youtube.com/watch?v=3wCAsy6JVlU&feature=youtu.be