Dive In Cinema Success
March 31, 2016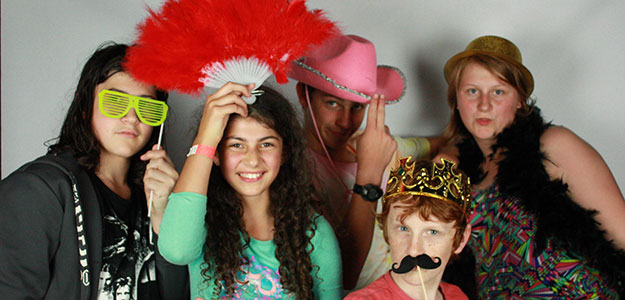 Saturday March 19 was definitely a night to remember for over 140 young people from the Yarra Valley who attended to Bendigo Bank funded 'Dive In Cinema' .
The idea for the event came from the young people who attend local youth group, Friday Youth Hang Out, an IOE Activ8 initiative, and it grew from there. The vision was to have a local event for local youth that was driven by youth. Living in the Upper Yarra Valley, there are very few organised events for young people. We wanted to give youth in the Upper Yarra an opportunity to attend a super fun night and show that 'Inclusion happens' in the Yarra Valley.
The Youth Hangout group also indicated that services and connections for young people are lacking in the Yarra Valley so we wanted to provide a platform to hear what youth from the Valley had to say. To this end we came up with the idea of creating a short film that would portray the views of youth, to be shown at the event. Workshops were organised through local youth theatre group MISFIT theatre with the resulting production of 'Speak Up Speak Out' a short film starring young people of the Yarra Valley talking about the issues that matter to them! An inspirational work which you can view at https://www.facebook.com/misfitprojectau/videos/1694974750786913/
The activ8 motto (and challenge) of 'Make Inclusion Happen' is exactly what happened on the night. Young people from diverse backgrounds were in attendance, with everyone hanging out together. From 6pm onwards people ate food, listened to music, had their photo taken in the photobooth (Pixl8 Photobooth – a local business run by a young Yarra Valley couple), and danced in the silent Disco Inflato. We aimed to connect Community and young people, so invited a number of local services to be present. Youth took the opportunity to talk on the night with local CFA, SES, Interchange Outer East & Yarra Ranges Council Youth Services & MISFIT Theatre about opportunities to volunteer or contribute ideas to their community!
Special thanks go to staff and management of The Yarra Centre, where the event was held, who were so supportive of this initiative and we are extremely grateful to them.
The Dive In Cinema and film workshops were made possible through sponsorship by Bendigo Bank Warburton & Yarra Junction Community Bank Branches https://www.facebook.com/Warburton-and-Yarra-Junction-Community-Bank-Branches-273622449355090/
Thanks also to local, young and talented singer- songwriter Jacci Robertson who set the mood and kept everyone entertained with her beautiful voice , prior to the screening of the film https://soundcloud.com/user-571252818/bones-from-jacci-robertsons-album-the-insanity-spectrum
Entry to the event was by Gold Coin donation, with all proceeds going to support the IOE Youth Hang Out Group which meets fortnightly Fridays in Millgrove.
To find out more about happenings in the Yarra Valley join the ACTIV8 facebook page : https://www.facebook.com/Activ8-514127565426230/?fref=ts
by Heather Sayer