Cultural Exchange for Students
August 13, 2015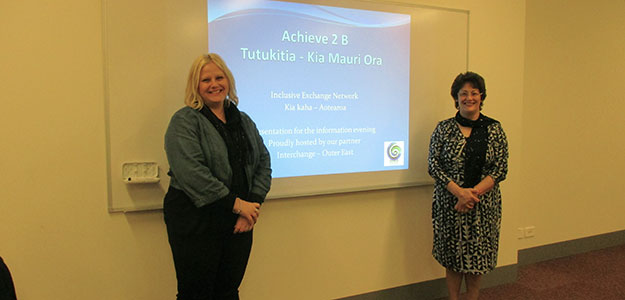 On the evening of August 3, 20+ people gathered to hear from Julia Hartshorne, founder of Achieve2B, about an exciting new project involving Interchange Outer East and her New Zealand based trust.
The project would see students with disabilities taking part in a cultural and educational exchange between Australia and New Zealand. The trust, Ms Harshorne's dream, was born of her own experience some 25 years ago, when defying the thinking at the time, she became the first NZ student with a disability to travel to America on an international student exchange program. It's an experience she believes should be open to all, no matter what their ability and it is her mission to make this a reality.
During the information session, the pilot program was explained – how it is envisaged it will work, timelines, participants etc. As was to be expected, there were many questions asked and possible issues raised. To further explore these issues a workshop was planned for the following Thursday, during which Ms Hartshorn's own story was elaborated, giving everyone an insight into the reasons behind Achieve2B.
Interchange Outer East has now become an official partner with Achieve2B and a pilot exchange has been confirmed to take place in Term 2 2016. As a first exchange one student will travel from New Zealand and will be hosted by a family through Interchange Outer East for a period of three months. A reciprocal exchange will then occur in Term 4 2016 with an Australian student travelling to New Zealand.
Contact has already been made with a number of local schools who have expressed interest in the idea, with one school coming on board and making representation to the Education Department on behalf of Interchange and Achieve2B.
The pilot aims to test the validity of the project and to gain credibility for the scheme to enable it to grow and embrace more students in further exchanges.
Interchange Outer East's involvement in the Achieve2B project shows, once again, its openness to further its vision of creating opportunities and choice for children and young people with disabilities.
by Sandra Leehy