Cruisin' Down The Yarra
March 25, 2015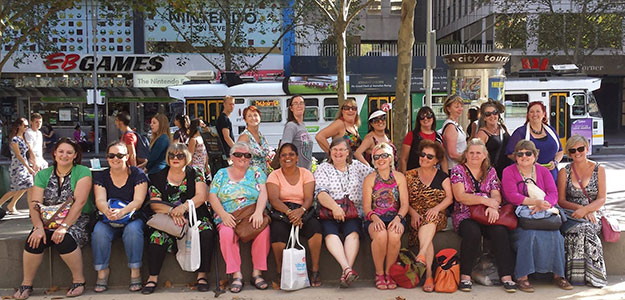 It was a perfect summer's (even though it is now autumn) day for our first Mums' outing for 2015 – a lunch cruise with Melbourne River Cruises.
Cruising down the Yarra, sun shining, cool breeze blowing, a sumptuous buffet lunch, 22 happy ladies, a few glasses of bubbly … life couldn't get much better than this.
We were lucky that our table was on the upper deck of the boat as we could take full advantage of the beautiful weather and, as we motored past, we had unimpeded views of the million plus dollar mansions that line parts of the Yarra. There were a few comments of "my next husband is definitely going to be a billionaire!". Sad part was though in spite of the perfect weather and the immaculate entertaining areas we didn't see a single person out enjoying what they had. Cruising along, sharing the day with a great group of friends, makes you think that the life you have is not too bad after all.
An added bonus was the Viva Victorian Multicultural Festival that was happening in Federation Square. We managed to catch a bit of the action both prior to and after our lunch cruise – lots of different dance groups, stalls activities and food . The African dance group was a favourite with the ladies, or rather one particularly well built and attractive African man was given the number of 'him and me' happy snaps that were taken.
Thanks ladies for another wonderful day out together. What a lovely group of women you all are.
Putting a call out to any Mums who haven't yet discovered the joys of Mums' Group to give me (Sandra) a call on 9758 5522 to have a chat about what outings we have coming up over the next few months or email sandra.leehy@ioe.org.au