Connection and Innovation
September 17, 2013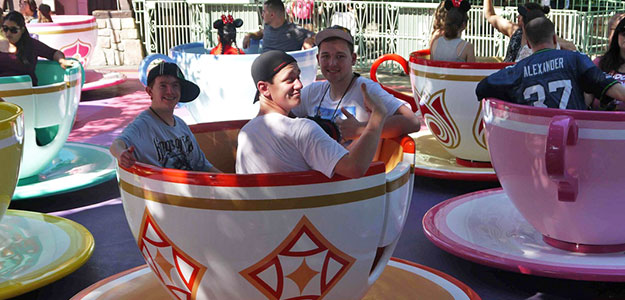 United Youth Media and Interchange Outer East have worked together in a world first, innovative and mutually beneficial international project.
The partnership between the two organisations has reached a new and exciting level with recent international projects. The initiative provides not only exciting travel adventures for young people with disabilities, but also the opportunity for youth volunteers to occupy a highly skilled, dual role, in media and recreation support.
In response to families' requests for international travel opportunities, IOE developed a service to create unique overseas adventures and 'trips of a lifetime' for participants, by enabling them to pool part of their individual support packages to fund group-based travel experiences. However, a fundamental problem was soon identified; people on these trips were often so caught up in the experience that they failed to effectively communicate with families back home. Also, upon their return, participants with communication difficulties had additional struggles in conveying the whole picture to their friends and family.  Interchange recognises that the ability to communicate and share success is an essential part of the total experience and is also a skill that enables the agency to function effectively..
Hence the involvement with the United Youth Media (UYM) crew, who could bring their media skills and experience to fill the content and communication gap for Interchange Outer East on these trips. In addition to media education through UYM, the crew member is signed up and trained as an IOE recreation volunteer. This enables them to fulfill the dual role of working with the Interchange group in a recreation volunteer capacity, while using their media skills to capture the experience and communicate it back to IOE and the wider community.
The initial trip  of the project was a huge success, with UYM crew member and IOE volunteer, Jesse Baker, returning  on September 13 from America, where he  accompanied a small group of two staff and 4 young adults on a nine day holiday.  Sixteen year old Jesse created a website for the Interchange Outer East trip.  He also took all the photos, wrote daily blogs and created a video, as well as creating a poster for IOE to keep and a photo book for participants. His media coverage of the trip can  be found at  http://ioeusa2013.weebly.com/index.html
Upon returning Jesse said, "I would like to take this opportunity to express my heartfelt thanks to you for your very active participation throughout my daily blogs and plethora of photos and videos. I would also like to thank you for allowing me to be a part of this very special undertaking. It has provided us all with our own special memories and a permanent place in which we can all visit from time to time to relive those special occasions. On both a personal and professional level I have appreciated the time we were able to spend together. I have certainly picked up life skills I will carry with me for a very long time."
The next project in line for this partnership is a trip to Italy from September 22 – October 13, which is a part of Interchange's MelMi (Melbourne/Milan) exchange project.  UYM crew member Katie Smith will be joining the Interchange group to perform a similar role to Jesse's.
United Youth Media (formerly The Reporters' Academy) is a not-for-profit media and communications company run by young people, for young people. UYM aims to make a positive difference in the lives of young people through education, employment and personal development. They deliver an innovative and easily accessible 21st century education curriculum to young people around the world and lead the way in global education and product-orientated learning. UYM  offers numerous exclusive and exciting opportunities for students to apply their skills and pursue their passions.  Through UYM projects, students develop a variety of qualities such as initiative, reliability, creativity, independence and persistence. It enables them to foster connections with people their age from all over the world and to have a voice in today's media.
The initiative not only assists Interchange to capture and share success stories but also has advanced a number of IOE strategic goals, including; to increase the range and scope of volunteering opportunities; and to make connections and networks with community agencies seeking opportunities to develop ideas together.
The relationship between the two organisations began over 18 months ago with UYM working with Interchange Outer East at their 'Keeping it Real Conference' in 2012.
Since then UYM have written articles for the IOE-published Bayswater Buzz community newspaper, supported the IOE volunteer coordinators to present at schools and recruit volunteers, as well as producing a video for IOE to present at the 15th National Volunteer Conference in Adelaide earlier this month.
United Youth Media fundraise to provide these unique experiences with Interchange Outer East. The USA trip and the Italian trip cost a total of $10,000 if you would like to show your support of this project and make a financial contribution please contact Rebecca Gallaher on 9758 5522 or via email rebecca.gallaher@ioe.org.au
by Rebecca Gallaher