Conference Makes It Happen
October 10, 2014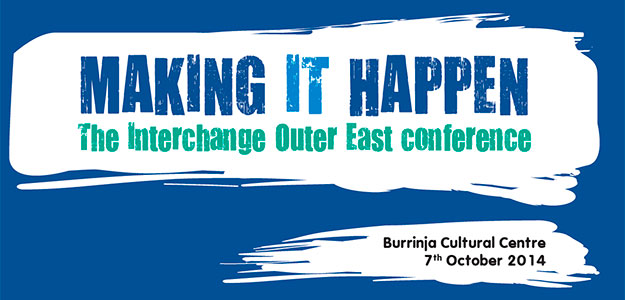 Over 130 people attended Interchange Outer East's 2014 conference on October 7, making it the most highly attended IOE conference to date.
The conference tag of 'Making It Happen' was the theme of all the presentations, as speakers shared the various ways they had 'made it happen' either in their personal or professional lives.
All speakers were inspirational. The first speaker for the day was Sally Richards who shared her story of helping her son, Jack, to attain a meaningful life through the setting up a mail delivery business, Jackmail, and the securing of independent accommodation for him. Making a good life happen for Jack.
We saw all sides of the NDIS from disability advocate, Jacqui Pierce, who has been working with families as they plan their futures through NDIS in the Barwon launch (not trial!) site of Barwin. Jacqui is passionate about the NDIS having been a key figure in the Every Australian Counts campaign. Her honest and forthright comments formed from first hand experience and her hints and tips for families to successfully make the transition to NDIS, were much appreciated.
Jonathon Welch told us the story of his early life and his personal involvement with family mental health issues and how these influenced his empathy with people suffering from mental health, dependency, disadvantage and homelessness. By combining his passion for these issues and his lifelong love of music and considerable musical talent, he has brought to fruition his dream of giving all people a voice through music, no matter what their circumstances. Through his choirs he has 'made it happen'.
Anthony Kolmus from the Disability Commissioners Office reported on the Working With Families Project – a project to put in place governing guidelines, strategies and actions for all agencies to follow to ensure families and people with disabilities are central at all times. Improving outcomes for families by supporting, listening to, communicating with and making them pivotal in all decisions. Jane Tracy spoke of her experiences of working with the disability services system – the negatives,the positives, those things which have made a difference – as she and her family have put together services and options for her son Nick.
Georgina deBeaujeu, brought her experience as a social advisor with Social Traders to talk about 'The Crunch' project and the purpose behind, and benefits to, society of social enterprises. IOE's Cathy Handy spoke about Interchange Outer East's current involvement with The Crunch, learning how to set up, pitch and run their social enterprise proposal, Kung Foods, which they hope will provide employment for young adults with disabilities in the future.
The conference attendees came together for the final session of mindfulness, facilitated by Dr. Frank Muscara from the Murdoch Children's research Institute. Dr Muscara explained the practice and then took the audience through a number of exercises to centre the mind to bring thoughts back to the moment.
In summing up the conference CEO, Fred Brumhead said "The conference enabled staff, volunteers, families and community to come together to hear a range of compelling and interesting speakers who covered a diverse range of topics. From all of the speakers there was a strong theme of being willing to imagine what a great outcome would be and then focusing your attention on achieving it. From my perspective it was about the things you can do – being present, standing with families, creating opportunities – that provide support to people rather than just a service. We are grateful to Knox and Yarra Ranges Community Development Funds for their financial support which enabled the conference to be free of charge and open to all who were interested."
Special mention must be made of Thomas Glenn, who shared the MC role with Fred. Thomas kept the day rolling along with a good deal of showmanship and his famous sense of humour!
by Sandra Leehy