Community Garden Opening
December 2, 2015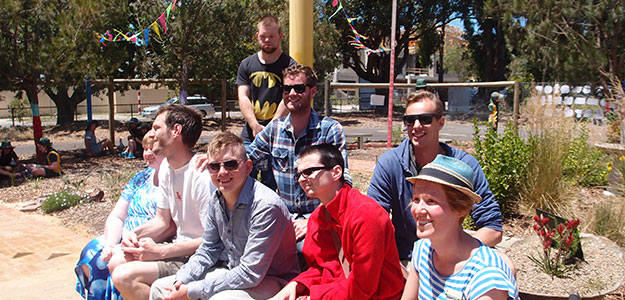 Monday December 30 saw the culmination of a couple of years of planning and work at Bayswater Primary school come to fulfilment with the official opening of their community garden.
Interchange Outer East's Adult Services Farm Intensive group have been working on the garden project for almost two years. During that time they have built a garden shed, chicken shed and run, laid down brick paths and built raised garden beds for vegetabless. The most recent work completed was a boardwalk to allow easy access across the often boggy ground in the centre of the garden.
IOE's Matt Howard, who has been leading the team of Robbie, Josh, Morgan, Lee and Adele, thanked the school for giving them the opportunity to be involved with the project, particularly for giving the group the latitude of working at their own pace and in their own style. Matt said there had been some challenges along the way with the work but the group had learned the skills to overcome them. He also recognised Daniel Noy, former support worker for the group, for his work in establishing the relationship between IOE and Bayswater Primary.
Morgan and Lee both also spoke at the opening, thanking the school and saying how proud they were to be able to work there and get recognition for their work.
The main community garden area is filled with Australian plants representing many parts of the continent. There is also a sensory garden, a number of quirky arty bits to add colour and play, plus the chicken shed and run and vegie gardens at the rear.
The School Principal thanked all those people who volunteered their time to build the garden and the children from the school gardening club who have worked so hard weeding, planting, constructing, clearing and looking after the chickens. Jacqui Carter, the school chaplain, was singled out for extra thanks from both the Principal and Matt, as she has been the driving energy behind the project and her support, commitment and ongoing involvement in every aspect of the project has been mammoth. She was also instrumental in recently nominating the Farm Group for the Aston Community Awards, Community Achievement section, in which they were finalists.
The Commmunity Garden is now open and off to a good start … but there are more plans mooted for the future which will more than likely mean further involvement for the hardworking Interchange Outer East Farm crew.
by Sandra Leehy