Communication the key at Link
May 5, 2014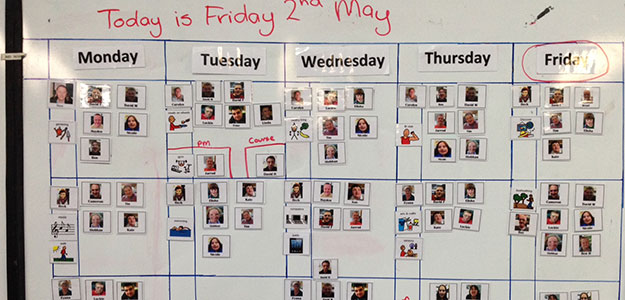 Balance Link in Bayswater has undergone somewhat of a 'communication overhaul' in recent weeks.
Thanks to Communication Development Officer Bec Casey and the team at Link, staff can now visually communicate the day's schedule to the group, including staff movements and any ongoing changes.
Link staff have participated in Boardmaker training recently, which has resulted in several new visual communication resources, including the weekly scheduling board. Everyone at Balance Link can now see what they are doing each day, what staff are in and allocated to their activity, and more!
Giving staff the training and resources required has allowed them to take the wheel when it comes to communication development at their site, giving them the tools to develop their own communication aids tailored to the needs of the group and the activities scheduled.
When asked about the future of communication development at Balance Link, Coordinator Carly-Ellen Lee said, "We are really excited about the impact these changes will make, and how the staff and participants at Link can now take more responsibility to develop and use communication resources each day."
If anyone has an interest in communication or is studying speech therapy and would like to help expand the collection or communication resources throughout the Balance program, please contact Carly at Link, or by email carlyellen.lee@ioe.org.au
By Faye Lougheed