Communication For All
February 19, 2014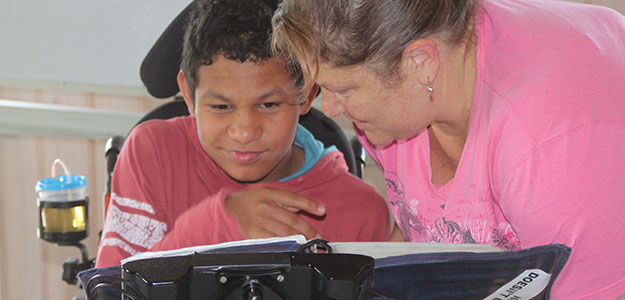 Over the weekend of November 29 – December 1, 2013 Interchange Outer East hosted a different type of camp  – one for families of users, or potential users, of augmentative and alternative communication (AAC) techniques. The 'Capture, Collaborate, Connect'  (CCC) camp was held at Camp Manyung in Mt Eliza and saw the spark of an idea put forward by IOE Communication Coordinator Bec Casey, flame in to a brilliant weekend for AAC users and their families.
Bec Casey's report on this highly successful camp follows:
"Following the Friday settling in, an introductory session of "The Power of Modelling" set the tone for the weekend.
The following morning all the AAC users and their peers headed off with Christel and Natalie for an intensive session of 'let me tell you', while in the other hall parents were blown away learning how they can assist their child/young adult to communicate beyond simply 'requesting'.
'Directed dress ups' was the first session for the afternoon. Dress up boxes exploded all over the floor while our models stood nervously on the stage being directed by AAC users as to what they had to put on, and where. This activity was a great consolidation from the previous presentations – modelling imaginative communication techniques – and humour! (Sorry about the nappy on the face, Tony, but you know the rules – if you think of a good idea, and express it with AAC – we'll reward it!)
Further sessions for the weekend included: AAC users and their siblings using their communication creatively and working as teams; parents learning about intent and desire; a 'breaking down the barriers' session; families sharing their journeys and experiences; and a treasure hunt using Boardmaker.
It wasn't all work either, in typical IOE camp tradition there were plenty of fun activities for everyone over the weekend.
Aside from all the learning experiences for families, our volunteers were incredible! They are now experts at editing Proloquo2Go, using Boardmaker, creating visual aids, modelling, and taking the time to hear what someone has to say. THANK YOU!
And parents – networked! I must say I had to smile on the last day hearing one parent to another 'I'll send you an email so we can keep in contact'. Perfect!
To everyone who helped out, in the planning and execution of this fantastic opportunity; THANK YOU!
To all of you, get out there and MODEL, MODEL, MODEL!"
Interchange is hoping to run a similar camp in 2014 and, is currently investigating possible sources of external funding. If you would like to support this important program, making communication accessible for all, please contact Bec Casey, IOE Communication Development Officer, on 9758 5522 or email bec.casey@ioe.org.au
by Sandra Leehy
Take a look at the photos from this very successful weekend on the CCC Camp 2013 gallery page.