'Come And Try' With Sports Week
April 1, 2014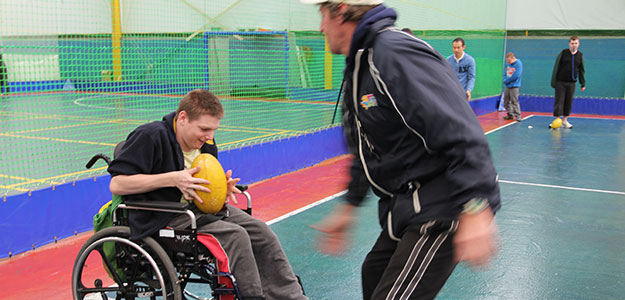 It's time to get active and Sports Week is the perfect opportunity for people of all abilities to come and try a range of sporting activities between Monday April 7 and Saturday April 12 2014.
An annual event, originally run solely by Interchange Outer East to promote fitness and a healthy, active life style for people with disabilities, Sports week has continued to evolve and is now a partnership between Interchange Outer East, Scope, ERLS, Knox Council and the Shire of Yarra Ranges.
Sports Week 2014 organisers are hoping to spread the fitness message to a wider audience this year.  By re-scheduling the event to the first week of the school holidays, families with children and young people will be able to take part without having to take time out of school. Sports Week is open to all members of the community and provides a fantastic opportunity for everyone to have fun and try new sporting activities. It also encourages people to be active members in their community through participation and inclusion in local sporting clubs and organisations.
Many sports clubs across Knox, Maroondah and Yarra Ranges will again be supporting the week-long event and will be running various 'Come and Try' activities and training clinics during the week. Most of the activities are free to attend but bookings are essential as some activities have limited places available.
There will be a Family Day at Lillydale Lake on Tuesday 8th April from 10am – 3pm. The day will provide families and groups the opportunity to try sailing with Lilydale Community Sailing Club, stand up paddle boarding and Tai Chi. There will be ample opportunities to stretch the legs with a planned Fun Run/Walk/Roll around Lillydale Lake, plus you can grab a sausage or two for lunch.
Just a few of the different activities on offer over the week are: golf, boxing; table tennis; cricket; soccer; skate boarding; footy; tennis; fitness class … plus more. For those who require greater accessibility, balloon football and modified cricket have also been added to the list.
Download the Sports Week Program for further information. To book online click the online form link here or contact Samantha via email at samantha.marchesani@ioe.org.au or phone Interchange Outer East on 9758 5522.
by Sandra Leehy