Ciao Italia
October 17, 2013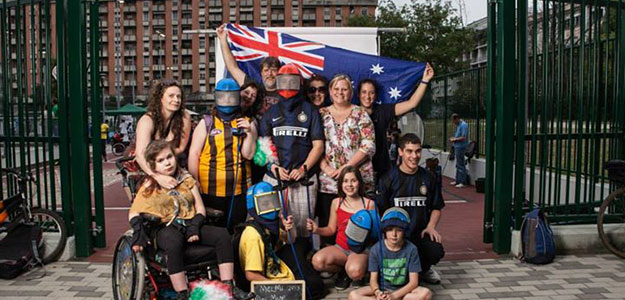 The Interchange group who traveled to Italy in late September as part of the ongoing MelMi exchange project, have just returned home to Melbourne.    The group, consisting of eleven people – three volunteers, three staff, three participants and two siblings – spent two weeks in Milan with friends from Atlha Onlus, who hosted them during their stay. After saying their farewells to Atlha, they set off to explore more of Italy, including Venice and Rome.
MelMi is an ongoing partnership between official and disability organisations in the sister cities of Melbourne and Milan. Partners from Melbourne include Aussie Hands (now withdrawn), Melbourne City Council, Italian Institute of Culture, Bayley House and Interchange Outer East. Partners from Milan include Atlha Onlus, Italian Chamber of Commerce and the Milan City Council.
Atlha Onlus President, Lino Brundo was the original driving force for the development of the MelMi project. Lino believed people with disabilities deserved the same opportunities as everyone else. He began the partnership after arriving in Melbourne in 2010, stating that he wanted to build a bridge between Australia and Italy to share information and cultural activities for people with disabilities. Unfortunately, Lino passed away in January 2012 but his legacy survives, now driven by Fabiola and others from Atlha determined to see Lino's work continued.
So far there have been four exchanges through the project, giving all involved the opportunity to see the sights and experience the culture of each country on an intimate level. When the Italian contingent  visited Melbourne in October 2012, Interchange treated them to a range of uniquely Australian experiences and tastes, which included: a trip on Puffing Billy and aqua biking on Emerald Lake; a day at Healesville Sanctuary, where they saw all the iconic Aussie fauna and watched the eagles soar; drives through the Dandenong Ranges;  a visit to Sovereign Hill panning for gold, touring a mine, taking in the sights and sounds of early Australia … plus sausage sizzles, BBQs with croc and kangaroo and graciously hosted evening meals.
While in Milan this year the Interchange group were kept busy with: a visit to a local school to chat to students; an amazing medieval dinner and experience, complete with costumes at Villa Corbellini di Corbetta, a private castle; a sports and music day (Fred taught them to play footy and they taught the group how to play in an orchestra). There was also the frenzy of an Inter v Fiorentina soccer game; an accessible playground at Cascina, Atlha's base; visits to cathedrals and galleries; shopping; trips to Orta and Parma; an annual Twitter festival called Twestival and a number of official events.
The whole trip has been captured through a website, with daily blogs, photos and other information, by 16 year old United Youth Media member and volunteer Katie Smith. Katie has done an incredible job. Fred also posted a daily blog, bringing his iconic wit, wisdom and humour to his reports. To see the website follow this link http://ioeitaly2013.weebly.com/index.html
Interchange is looking forward to hosting the Italians in Australia in 2014. If you would like to be a part of the project or would like more information please call Fred Brumhead on 9758 5522 or email fred.brumhead@ioe.org.au
by Rebecca Gallaher