Celebrating Nadia for International Women's Day
March 5, 2015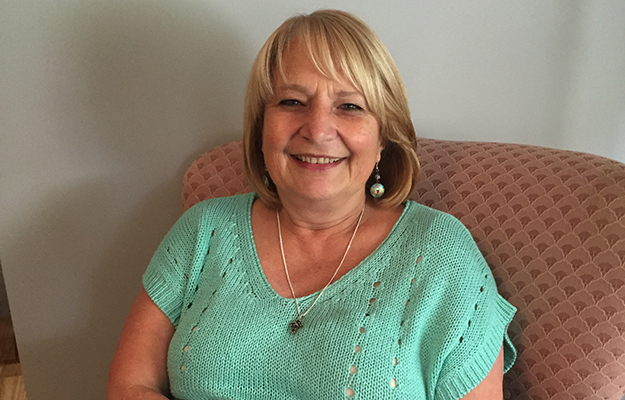 March 8 is International Women's Day and all around the world, the focus will be on raising awareness of issues that affect women globally and celebrating women's achievements and contributions to our world. Interchange Outer East would like to put the spotlight on one (and there are many) of our extraordinary women.
"There are many reasons to complain about life these days; 'there are not enough hours in the day!', 'I have far too much to do!', 'the kids are pulling me in 100 different directions!', 'how will I ever manage that?!' the list goes on. But you will never hear anything like this out of Nadia Lazzari's mouth.
Nadia is the beaming proud mother of five daughters. She is a primary school teacher, Italian language teacher, volunteer, international exchange host, advocate, and… did I mention she has five daughters?
I was lucky enough to spend some time in the beautiful family home of Nadia and Vincent Lazzari earlier this week, and I could tell from the first moments that I have never met anyone quite like Nadia. Her infectious smile lit up her face and made me want to smile too. Her attitude towards all of life's challenges made me want to be more positive; to see opportunities rather than hurdles.
Three of Nadia and Vince Lazzari's five daughters have an intellectual disability; a rare chromosomal disorder that was diagnosed around the pre-school and early primary years of the girls' lives. Since receiving the diagnosis, Nadia has worked tirelessly to give her daughters the best life that they can. She has not shied away from closed doors, from barriers or from the word 'no'.
Incredibly, all three women are now living independently away from the family home, supported by Interchange Outer East, St John of God and other organisations. But that's not to say that Nadia's work is done, she is always looking for new ways and new opportunities to help her daughters achieve their goals. She doesn't see a disability when she looks at her daughters; she sees three individual women with the same dreams in life as any other young woman. She is currently trying to find a way for Monica, her second eldest daughter, to spend time volunteering in Africa. Monica has the travel bug after travelling to Italy with IOE and is off to USA later this year. She said to her mum, 'People have always helped me; it's time for me to help someone else too!'
The family first became involved with Interchange in the Geelong region after a recommendation from the paediatrician that Nadia seek support. Nadia was hesitant at first, with a no-fuss response of 'Oh don't be silly, I can look after my own girls!' Eventually, Nadia agreed to become part of the host program and soon enough, Monica had formed a great relationship with an amazing young couple who began hosting her. After relocating to the Ringwood area in 1995, the Lazzari family became involved with Interchange Outer East with the help of a young support worker (and now General Manager), Belinda James. The girls enjoyed time on the School Holiday and Recreation Programs, 1:1 support, Siblings Program and Host Program. In an incredible success story for the Host Program, Alana, the youngest of the five, is still very much part of her host's life after nearly 20 years!
Thanks to Nadia, the Interchange Outer East/Italy MELMI project came about. Nadia's name was passed on to the Italian Institute in Melbourne, who had been in contact with a disability support organisation in Milan, Italy. Both cities were interested in starting up an exchange for people with a disability and with Nadia's hard work and willingness to go the extra mile for her daughter Monica, the MELMI project was born. This year, MELMI will conduct its fifth exchange when IOE hosts a group from the Milan organisation, Atlha Onlus. Nadia also held after-hours Italian language classes at Interchange Outer East to help IOE staff better communicate with their new Italian friends!
Now on the verge of being empty nesters, you would think they would be looking forward to some down time, to doing some travelling and enjoying the quiet – but not Nadia. As her mum told me when I was lucky enough to meet her, 'She has empty bedrooms so she had to fill them' – with international exchange students nonetheless! Nadia is currently hosting two young Japanese students, and has recently farewell a young Italian man who has now settled in Melbourne to complete his PHD. There really is nothing that is too hard, too much work or too tiring for Nadia.
Nadia told me that every person she meets, every new story she hears is just another opportunity to help someone else. She is humble and modest and thinks she is just an ordinary person who has done what every other ordinary person would do. It is this incredible attitude that is so inspiring to me and many others, and the reason Interchange Outer East is using International Women's Day 2015 to celebrate Nadia and everything that she has achieved and continues to achieve for her family.
Next on the agenda for Nadia – hosting (and catering for) an engagement party at their home for 280 guests! We may also be seeing Nadia on the Board of Management at Interchange Outer East in the future, if only she can convince her mother and Vince that she has the time and plenty more energy to burn!"
International Women's Day 2015 – #MakeItHappen
By Faye Lougheed