Carnival Kicks Off Holidays
December 22, 2016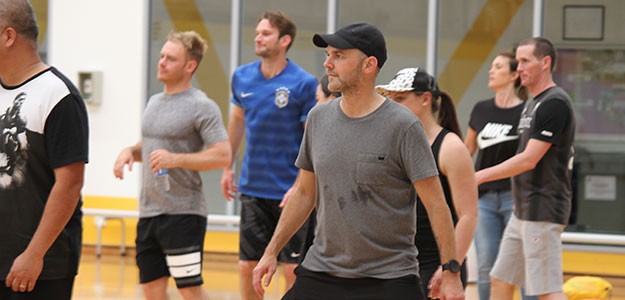 On Wednesday 21 December, on the much anticipated first day of school holidays and with the help from a great group of enthusiastic NIKE corporate volunteers, IOE held its first Summer Holidays Activities Carnival.
There was cricket, face paint, basketball, juggling, parachute games, hot dogs, hula hoops, fitness, balloon sculptures, soccer, Zooper Doopers, sensory play, coffee and cartwheels. There were boys, girls, mums, dads, big kids and big FUN – all thanks to some quick planning and a great bunch of volunteers!
Volunteer Coordinator, Marcelo Calderon said, "An area of growth and development for the IOE volunteer program has been how to utilise and maximise corporate volunteers. While we have a rich history of recruiting and supporting recreational and host volunteers, we see corporates volunteers as the next step in helping IOE provide new and different opportunities for all our families and local communities.
Corporates volunteering has long been something we have wanted to explore but just didn't know the where, who and how. An exciting opportunity presented itself to partner with NIKE Melbourne, who were interested in volunteering. Starting with that expression of interest just one month ago, a great day was put together to kick off the school holidays."
This is the first event of its kind that Interchange Outer East has put on for families, and we received some encouraging feedback on the day. The kids all had a great time trying out different sports and activities, making new friends and starting the school holidays off on a real high.
Lionel and Peter from Freemasons Monash Gully are also starting to become a regular sight at IOE events, cooking the BBQ and feeding the hungry bellies. We are so grateful to have the ongoing support of Freemasons Victoria!
The group from NIKE were absolutely brilliant all day. They moved around with the groups, trying different sports and activities and never lost their enthusiasm to help the young (and young at heart) sport stars have a great day. It was a wonderful opportunity for the IOE team to show what we do and how we try to create fun, positive opportunities for children and families.  It was also great to see the NIKE volunteers interacting with the families on the day; everyone was on first name basis by the time the Zooper Doopers came out!
This day was made possible by the dedicated Family Support Services team at IOE and not to mention the wonderful corporate volunteers from NIKE.
IOE looks forward to continuing this relationship with NIKE Melbourne and developing more in the future.
By Faye Lougheed