Car Washing With Sam
August 3, 2013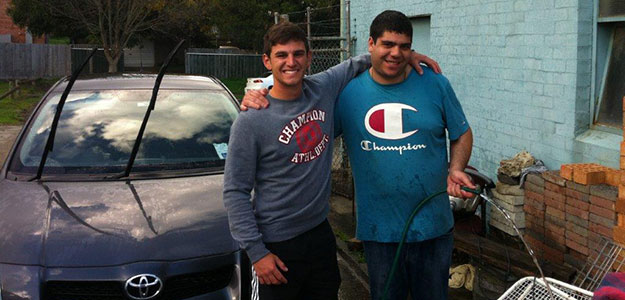 When I first started my placement with IOE I wasn't quite sure what to expect, how I would fit in, how I would be received.
No need to have worried, as I found nothing but acceptance and friendship from this tight knit, fun loving team at Enterprises.
It was with Sam that I made a special and almost immediate connection.  At the end of our first day together we both felt like we'd been mates for years!  When I learned about his passion for cars and his ambition to have his own car wash business, I thought it would be great to support him to get his business up and running.
We designed some business cards with Sam's slogan 'We Clean the Best, And do it for Less!' and handed them around to promote his car wash. Every Tuesday at Interchange you'll find the 'Sam and me' team, hose and suds at the ready, music pumping and conversation rolling as we tackle the dirty cars.
Sam is very proud of his business and puts 100% effort into every car. He loves what he does. His smile reveals it all, especially when he returns car keys to a satisfied customer. Sam says,  'I enjoy making my customers happy. You can tell that they are happy when they see a clean car in front of them'.
As a medical student, I came to Interchange Outer East with the initial ambition of improving my communication skills with people with disabilities. Only halfway through my placement, I feel as if I have already accomplished this goal and, through my work with Sam, I have learned so much more along the way. I am thoroughly enjoying my time at Enterprises, particularly our Tuesday car wash.  It is truly an enjoyable and rewarding experience. I feel privileged to be a part of this organisation and look forward to spending the rest of 2013 here!!
George Tsihlis