Buzz Get A Boost
August 22, 2013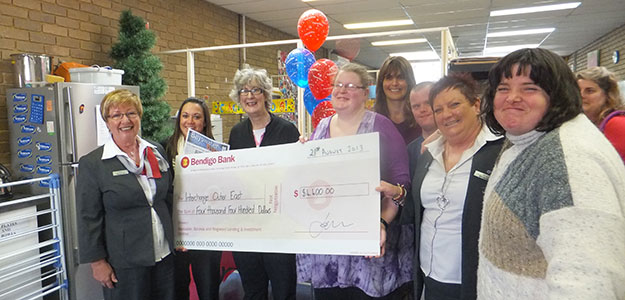 Once again the Bendigo Bank of Bayswater has stepped up to support its local paper, The Bayswater Buzz, which is published by Interchange Outer East.
Members of the Buzz's production team and a group of the young adults from Interchange's Balanced Options LINK program, who have a strong connection to the Bayswater community, were there on Wednesday 21st August, when the  newspaper was presented with a giant cheque for the magnificent sum of $4,400 by bank  representatives, Kerry and Carol.
The generous donation by the Bayswater branch will be used to defray the Buzz's printing costs for the next 8 issues (2 years).
This is not the first time Bendigo Bank has supported  the Buzz, which started up in 2010 as a community project, supported by local community organisations. The Bank recognised the need for the paper to be more sustainable and it's first donation back in 2011 was vital in securing the future for this popular community paper. This original donation enabled the purchase of computers and software which were essential for the newspaper's production.
'Printing is an extremely large cost for any magazine or newspaper, so we are especially grateful to Bendigo Bank for their donation." said Tony Nelson, editor of the Buzz. " Our thanks also go to Interchange's Rebecca Gallaher, for her hard work in negotiating with the Bank to secure the donation."
Kerry and Carol from the Bayswater Bank branch said they were "were very pleased to present the cheque".  After the presentation they shared the little celebratory 'party', complete with balloons and tasty party fare, at the home base of Interchange's Link Service.
by Tony Nelson