Brick Design Club for Valley
November 7, 2013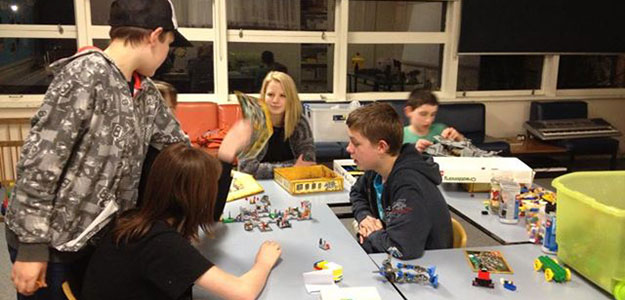 IOE's ACTIV8 program supports children and young people who require extra support to join in local community activities or clubs. Through the program, an inclusion worker supports not only the child/young person, but also the organisation or group during the inclusion process, gradually withdrawing as all parties become more confident and independent.
As coordinator of IOE's ACTIV8 program, I was approached earlier this year by a family from the Seville area who were interested in their 13 year old son, Connor, joining the program.
Connor told me he was interested in Lego design and Transformers and that he would really like to make friends who shared his interests. The idea of starting a Lego club in the local area with the support of the ACTIV8 program was put forward. The idea became reality and The Yarra Valley Brick Design Club was formed. We can't call it a Lego club due to trademark laws.
Before the club was started, Amy (Connor's mum), Connor and I had a number of meetings. Connor was very involved, contributing ideas on how the club should run, members' ages etc. Amy is very connected to the Seville community was able to secure the Seville Primary School parents' room for club meetings.
The club meets every Tuesday evening at the Seville Primary School during school terms. It welcomes any Lego (brick) design enthusiasts who are between 10 and 18 years of age. Nine year olds are also invited to apply so long as they understand the focus of the club. The club also has a Facebook page (Yarra Valley Brick Design Club), so everyone can catch up on upcoming events and photos.
ACTIV8's inclusion Worker is supporting both the development of the club and also the club members. They will eventually move out of this role as the club establishes itself and other community members become involved.
For more information please contact me, Samantha Marchesani. Active8 Cordinator on 9758 5522 or samantha.marchesani@ioe.org.au
by Samantha Marchesani

Read more about the Active8 program http://www.ioe.org.au/what-we-do/childrens-services/recreation-program/
You can check out more about the Yarra Valley Brick  Club by visiting their display at the Yarra Valley Spring Festival,  Sunday 10th November, 10-4pm, at the Seville Recreation Reserve.