Blokes, Music and Fun
April 25, 2013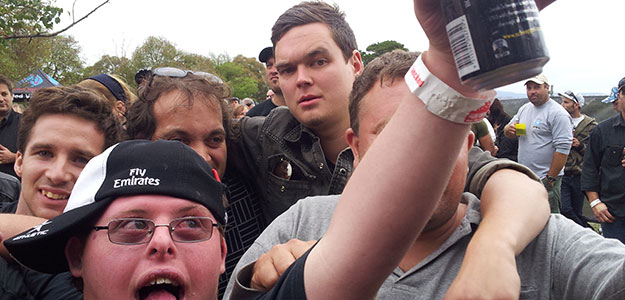 It was agreed that the Enterprises and Supernaturals March camp should be all about music.
So it was off to Mansfield to soak up the vibes of the Red Hot Summer Tour.
Along the way we stopped to do a little fishing at the Marysville Trout Farm. Each of the guys caught a fish, so a fishy BBQ was in order. Nick's catch was a real whopper (well, with some clever photography it appeared that way) and David took fish kissing to the extreme with his catch!!
Our camp was based at Lovick's farm bunkhouse in Merrijig.  Our first night there was a loud, crazy pool playing  and footy watching affair. To be honest, it kind of felt like I had just gate crashed a bucks' weekend. It was definitely going to be all about the blokes this weekend!!!
Next day we explored Lake Eildon and were overwhelmed both by its size and the amount of water. Last time we'd seen the lake, it was occupied by dirt bikes instead of boats. More footy plus a bit of cricket by the lake and then it was back to Mansfield for a pub dinner.  Unlike the previous evening, I thought dinner was quite a civilised event, until I ventured outside and dared to go a little crazy on the jumping castle there, where I was mistaken for a fellow wrestler and body slammed and held for the count, again reminding me of feeling like a gate crasher on bucks' weekend.
The highlight of the camp was definitely the much anticipated Music Festival. The Red Hot Summer Tour featured, Jimmy Barnes, Ian Moss, Baby Animals, Dragon and last but not least Chocolate Starfish. Nick and James were welcomed on stage and performed a song with Chocolate Starfish where they danced alongside Adam, the lead singer and entertained a crowd of 5000 plus. This of course elevated the guys to 'rock star' status, so for the rest of the evening they enjoyed the associated perks, being swamped by high fives and getting lots of hugs from pretty girls. Really hard to take – I don't think! Most of the guys had an opportunity to go side stage to watch the performances, which was also a real highlight.
After a very long day and a 6 hour concert it was back to our Merrijig camp. Needless to say, most of us slept very well that night. It was a really great and memorable trip with lots of laughs and one that will go to the top of my 'best camp ever' list!!
Cathy Handy