Be Surprised …
August 12, 2016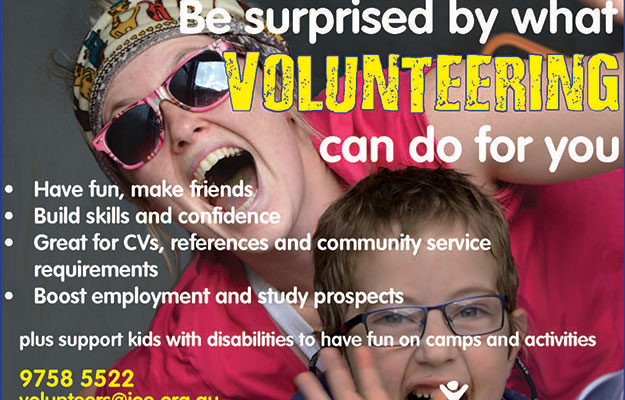 Be Surprised by what VOLUNTEERING can do for you is the tag line of the current advertising campaign undertaken by Interchange Outer East (IOE) to recruit more volunteers, particularly for recreation programs.
The campaign aims to stress that volunteering on recreation programs is not just about having a fun time and making friends – though that is certainly what happens!
It's also not only about assisting children and young people to access all the myriad activity and camp experiences on offer through these programs – though that is the primary role of an Interchange recreation volunteer.
IOE wants to spread the word about the other sides of volunteering.
• Volunteer experience is great for CVs and references – many businesses look favourably on potential employees who have shown commitment to others and to their communities through volunteering.
• Volunteering can assist with further studies – experience gained can give students that 'foot in the door' for entry to tertiary studies. The qualities and skills learned through volunteering can set a person aside from other contenders.
• Volunteering gives increased self confidence , organisational and leadership skills, mentoring experience, interpersonal skills and a greater acceptance of difference .
• IOE's specific training gives volunteers additional knowledge and practical experience in positive behaviour techniques, communication on many levels including using augmentative aids, plus so much more.
• Large numbers of volunteers go on to full or part time employment within IOE as support workers – a natural progression which uses the experience gained from volunteering. The flexible working hours make it ideal casual work for uni students, stay at home mums or dads or those in between other employment. There is a huge amount of variety and choice in the number of hours, times worked and the people requiring support. The introduction of the NDIS will see an enormous increase in the need for qualified support workers, so this will become an ever growing industry.
• IOE also continues to employ current and ex volunteers across all program areas coordinating services and programs or working directly with the children and young adults. This is a win- win situation with IOE employing people who already understand the ethos and workings of the organisation and employees being able to continue working in the field for which they have developed a passion through their time volunteering.
With so many organisations vying for volunteers why choose Interchange Outer East?
• IOE values its people – families, staff, volunteers and supporters – and people are always the priority within the organisation.
• You'll be volunteering in a team of like-minded, friendly and supportive people who range in age from 14 + and have diverse social and cultural backgrounds.
• As well as all the fun opportunities, memorable experiences and fantastic people you'll learn skills and values which will stay with you for life.
Give it a go and … Be surprised by what volunteering can do for you. Contact Volunteer Coordinators, Marcelo and Bec on 9758 5522 or email volunteers@ioe.org.au
Read media articles on the impact volunteering has had on the lives of some IOE volunteers:
Emma Kay  – Knox Leader 08/08/16 ;   Amy Callaway –  Ferntree Gully News August edition 2016 ;  Sarah Ward – Mail papers:Ranges Trader, Ferntree Gully Belgrave, Mt Evelyn, Upper Yarra, Mountain Views 19/07/16
by Sandra Leehy