Be a Part of Something Great!
May 12, 2014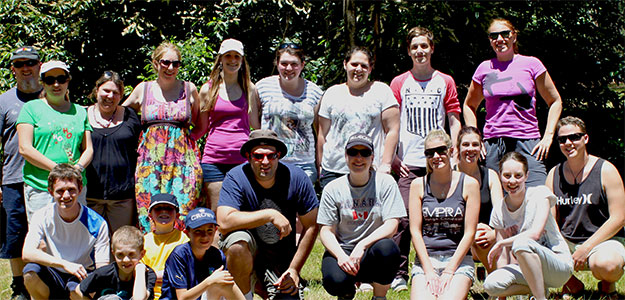 This week, 12 to 18 May 2014 marks the 25th Anniversary of National Volunteer Week in Australia. Here at Interchange Outer East, we are very proud of our volunteer program, incorporating our successful and innovative youth volunteer program.
In extension of our core responsibility to support families of children with disabilities, Interchange works passionately to strengthen the community as a whole.  To achieve this, we seek volunteers of all ages and abilities from our community to be involved in our service. However, it is our partnership with the youth of our community that sets us apart from other community organisations. We support hundreds of young volunteers; recruiting them to support our participants 'to create opportunity and choice.'  In the last financial year, our recreational volunteers provided a total of 25,250 hours of support to the Melbourne's outer eastern community.
Interchange Outer East has been utilising, and benefiting from, the help of youth volunteers for the past 30 years.  We currently have 150 volunteers aged 18 years or younger, and 80% of our volunteers fit in the youth bracket, aged between 12 and 24.  By recruiting volunteers from the age of 14, Interchange Outer East plays a huge part in nurturing the future leaders of Australian communities. Our volunteers gain the skills and the practical experience needed to support, and advocate for, those enduring adverse life experiences. The program plants, nourishes and reaps the benefits of young adults with strong social consciences, so that they can make positive changes for humanity.
Volunteering not only helps to strengthen your community and assists families; it is fulfilling, challenging…and FUN!
There are many ways to volunteer your time, skills, enthusiasm, knowledge and expertise to Interchange Outer East. Aside from our recreational volunteers, we also invite volunteers of all ages to join us across our organisation as follows:
Those willing to contribute their skills as corporate volunteers, mentors or trainers;
Volunteers to assist with certain events, projects and programs, or to support a particular individual or group;
Those wishing to contribute to the ongoing administrative and office tasks of the agency;
Host and specialised care volunteers – call or email karen.munzel@ioe.org.au for more info;
Placement students, travellers and other temporary volunteers;
…and MORE!
Whether you can spare a few hours, a few days, or if you are interested in something more permanent and ongoing, we would love to chat to you!
For more information on any of our volunteering opportunities, please check out the 'Get Involved' section on the website, call the office on 9758 5522, or email our volunteer coordinators at volunteers@ioe.org.au
By Faye Lougheed