Bank Supports Campaign
March 4, 2016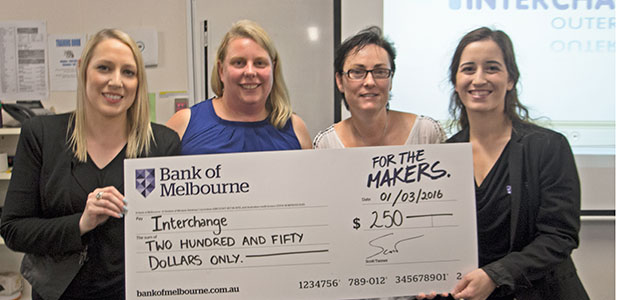 Interchange Outer East's 25th Anniversary of Family Camp Campaign was officially launched on Tuesday March 1. The campaign aims to raise funds for this ever-popular and valuable IOE family support event.
The campaign slogan '100 donors in 100 days' represents the goal of the campaign, with donations of $25 each (or any other amount) IOE is hoping to raise a minimum of $2500 – the cost for 2 families to attend Family Camp.
The Ferntree Gully branch of the Bank of Melbourne has come on board the campaign and kick started the giving by making the first 10 $25 donations, a total of $250.
The branch was represented at the launch by Jemima Vakacavu, the Regional Partnership Manager; Stacy Mahney, FTG Branch Manager; and Lauren Makhoul, the Customer Service Officer and Community Ambassador. All three ladies spoke of the Bank of Melbourne's commitment to community and desire to support and maintain relationships with community organisations such as Interchange Outer East, so "we can do great things together".
The branch has previously worked together with the young adults from IOE's post school service in Ferntree Gully, when participants assisted with the Bank's FTG Branch's Disability Awareness Day. They were most appreciative of the assistance given and are hoping to run future events and volunteering opportunities in which the group can be involved. They see the relationship with IOE as being one of mutual benefit. A sentiment reciprocated by Interchange Outer East!
Katie Jacobson, IOE's Fundraising Officer presented a video of families telling how much Family Camp means to them and how life-changing their involvement with both this, and IOE in general, has been. She and Jo Green, Ioe's Marketing Officer, have been busy interviewing and formatting the video for the campaign launch to give an insight into the importance of Family Camp for potential supporters.
The launch concluded with the cutting of the 25th Anniversary cake.
Family Camp, now a bi-annual event, enables families to spend a few days together as a family unit, in an environment of friendship and support. Always fun and always sociable, families can relax or be as active as they like. Parents have the chance for a break too, as volunteers are always there to care for the children when time is needed. In spite of its value IOE's Family Camps receive no ongoing funding and rely on support from donors and philanthropists.  Through raising awareness IOE hopes to engage supporters beyond the reach of this current campaign, to ensure the continuation of Family Camps into the future.
Read more about the 25th Anniversary of Family Camp Campaign and view (and share) the video.
by Sandra Leehy