April Is Sports Month
March 25, 2015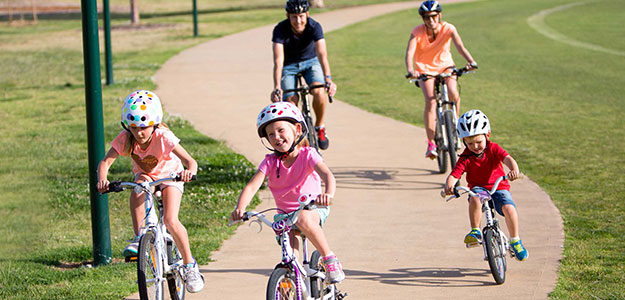 Interchange Outer East's annual Sports Week has been transformed and will no longer be running in the same format as previous years.
This year Sports Week will be taking advantage of the month long calendar of physical activities which are being run by City of Knox as part of the Premier's Active April campaign.
Key stakeholders involved with Sports Week, identified an opportunity to align resources and efforts with Healthy Together Knox's involvement with Active April to achieve the overall aim of IOE's Sports Week, which is to increase physical activity, participation and inclusion in sport.
Knox's calendar of activities is for all family members and IOE encourages its families to get their young people and themselves involved in as many of the physical pursuits on offer as possible. With sporting venues and clubs across Knox offering the chance to take part in activities such as Tai Chi, soccer, bowls, tennis, cheer leading, karate, walking, fishing … there is no reason for anyone NOT to get involved. The program offers something for everyone to enjoy.
• During Active April, Interchange Outer East will be running its regular Sport for Fun program for 10 – 18 year olds, every Monday afternoon from 4.30pm – 6pm at Knox InSportz and is inviting everyone from the community in this age group to come along and have some fun.
• The Connected Community Soccer Tournament is a key Active April activity run by IOE on Thursday April 9, from 10am – 2.30pm. Register yourself, family, friends, workmates and community groups for this fun , non-competitive soccer tournament. More teams are still required. To register contact IOE 9758 5522 or register online at http://www.ioe.org.au/connected-community-soccer-tournament/#sthash.O6qWzCMk.dpbs Download Soccer Tournament flyer
• To cap off the Active April month, IOE's Active8 program will be running a weekend camp at Point Leo for 5 – 18 year olds. This will be open to anyone currently accessing Active8, or anyone registered with IOE who is interested in sport, the outdoors and being active. Contact active8@ioe.org.au if interested in attending.
Get Active with Premier's Active April in Knox.
Proudly supported by State Government of Victoria, VicHealth, Healthy Together Knox and Knox City Council. Download Active April program for more information and check out the website http://www.knox.vic.gov.au/activeapril
by Sandra Leehy