Amazing Race – IOE Style
May 21, 2014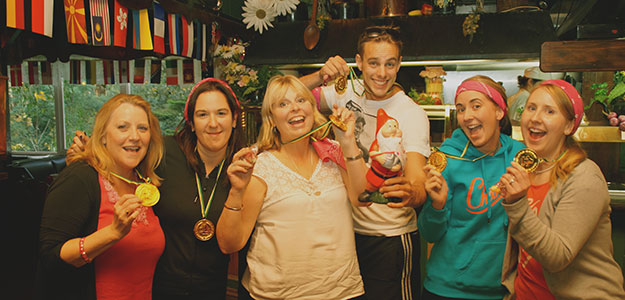 Interchange Outer East believes that a strong and healthy organisation where everyone works together will always produce the best service and outcomes. With that in mind on Wednesday 14th May, IOE staff set off for a day of adventure, fun and discovery – all in the name of team bonding.
In true 'Amazing Race' style, staff divided up into teams, received instructions and their first clue, jumped in the vehicles and headed to the beautiful Yarra Ranges – first stop, Olinda! From there on, it was a day full of cryptic clues, gorgeous scenery, tricky challenges and hilarity. The day took teams through the lovely towns of Olinda, Sherbrooke, Belgrave, Emerald, Kallista and up to the lofty heights of One Tree Hill. All the while there were clues to solve, a puzzle to complete, mini-tasks and challenges, as well as the major checkpoint challenges which tested skills, resolve, knowledge and brain power.
Challenges and check points took teams to the most beautiful places, with autumn leaves in shades of red, orange and yellow carpeting the ground wherever they went; Emerald Lake and a visit to Puffing Billy, George Tindale Gardens and the National Rhododendron Gardens, Grants Picnic Ground and Sassafras Creek Reserve were the highlights. There were mini-tasks to complete along the way, photos to take and souvenirs to collect, before finishing up for the day at the historic Cuckoo theme restaurant for a much needed afternoon tea and the announcement of the final team rankings.
It was the Pink Team who took out the top honours for the day, and much to CEO Fred's dismay, his team – the Red Team, went home with the wooden spoon (rumour has it they were penalised for sabotage – tut tut, Fred!)
The day was a huge success and everyone worked well within their teams and learnt a thing or two about themselves and their team mates (including ALWAYS read the question properly the FIRST TIME!)
Thank you to staff members Jacinta and Lauren, for organising such a fun, successful, team building day. Also a big thank you to the Olinda Sweet Co. for joining in the antics of the day, and to everyone else in the community who joined in the fun – including a special shout out to local Belgrave celebrity Baba Desi for being such a good sport and smiling for eight team photos!
Coming Soon: A gallery of some of the best photos from the day.
By Faye Lougheed