Action in Alexandra
April 29, 2015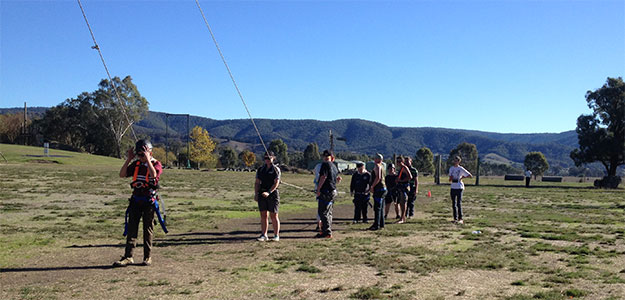 The destination for our Enterprises camp was Alexandra Adventure Resort. With a week of action packed adventure planed, we started camp with a leisurely lunch at Eildon beside the lake, then a visit and to Snobs Creek falls. With plenty of recent rainfall the falls looked spectacular. A great set of steps and a ledge (that not all were brave enough to venture out on) gave us great access to view these fantastic falls.
Arriving at the Resort we confirmed with everyone that this wasn't going to be a 'sit down and relax' kind of camp; it was indeed going to be filled with fun and adventure. With breathtaking views and an endless amount of things to do, we spent the afternoon exploring the 30 acres.
Waking early the next morning, we were treated by Marc with a solid breakfast of bacon and egg sandwiches, and were then ready for the busy day ahead. Rock climbing was first, Kieran and Ben made it all the way to the top and everyone else gave it a red hot crack, making it at least half way. Next was the flying fox, a huge zipline that traversed the camp's large lake. Though a few nearly dipped in the water on the way over, everyone survived and thoroughly enjoyed themselves. A quick lunch was followed by a casual canoe row around the lake –  with not a single person ending up in the lake!
The possum glider had the team all working together to raise a person into the air to swing on this high rope activity.  Luke conquered his fear of heights, although not really by choice – sorry Luke! Everyone else had a go and enjoyed being suspended in the air swinging back and forth. Who'd have thought this would be enjoyable! Finishing the day off with archery, we had some very exhausted guys.  Nick and James opted to freshen up with a dip in the very cold pool.
Having stayed at camp the day before, we decided to head out and explore the area the next day, After a sleep in and late breakfast we ended up in Mansfield for coffees and milkshakes, before heading to the Mansfield Zoo to see some native fauna as well as some more exotic animals including lions and monkeys. Most enjoyed hand feeding the kangaroos and deer but some were not so enthusiastic! After a late lunch back in Mansfield we made it back to the Commercial Hotel in Alexandra for a pub style dinner.
The last day was pack up then off to Alexandra to check out the shops. After bite of lunch in Healesville, we headed home exhausted but satisfied from a great camp!
by Cathy, Kieran and Marc