2013 Volunteer Camp
March 4, 2013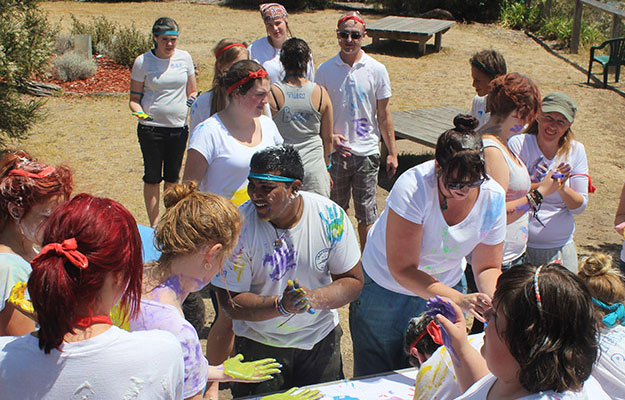 In early February, Jess (Jiss), Fred and I, plus  44 volunteers, headed down to Portsea for a weekend of fun and personal development on IOE's first volunteers camp for 2013.
We had decided that personal development was going to be an important aspect of this camp. Feedback from previous volunteer surveys had suggested that some volunteers felt unsafe, needed additional training and had a feeling of 'us and them' with regards to rec leaders. We knew it was important to get a better idea of what this all looked like and the camp seemed like an ideal opportunity.
Everyone was looking forward to stopping at Maccas in Rye for a bite to eat but Fred had other ideas, preferring to support the local traders than give money to a huge global company. Noble …  but not a very popular move!
We arrived just before dark, unpacked and sorted everyone into rooms, then all met in the main social/common room, which had a beautiful back drop of the Portsea Pier and Port Phillip Bay. Our meeting started with a brief overview of what the weekend was going to look like and what we wanted to achieve, followed by a quick round to introduce any new and old faces to the group.
Time to start the games and role playing activities! Fred asked the volunteers to split up into 4 groups and build a fort and gather as much stuff as they could from around the room. Within a minute the room was trashed with furniture, books, DVDs and cushions all over the place. Some order was restored but I think Fred saw a different side to the volunteers from that which we see every other weekend. The 12 different scenarios we did as a learning exercise were really successful and enjoyed by all the volunteers, as were the 9 squares and mafia games we played. Each of the 4 groups of volunteers had different tasks throughout the weekend. Group 1's task was to perform a flash mob in the dining area on Saturday night. Group 2 had to talk like Jiss or with an accent. Group 3 had to spontaneously break out in laughter, bird calling or anything they wanted and couldn't stop until the whole group was involved. Group 4 had to make sure they made life difficult for Fred, this included taping his sleeping bag to the ceiling and glad wrapping his bed and all his stuff. We also started the game of assassins.  A very late night for all in the end.
The next morning everyone gradually wandered in for breakfast looking very tired. A group of netballers from Gippsland were sharing the campsite and the girls had been up, done their exercises plus a morning run before breakfast. They continued to do more exercises and team bonding for the rest of the weekend. Too enthusiastic I say!
After some down time the two teams designed their flags for the 'capture the flag' game later that morning. The guys had a ball and played capture the flag all over the camp site, with the final showdown on the beach. We had lunch and started to look forward to the planned paint fight and the completion of the volunteer banner. Both these activities were great and a lot of fun. The paint fight was short and sweet and very messy. We had volunteers trying to get paint out of hair, jewellery etc for days to come. The rest of the afternoon was free time. Time for the beach and just chilling before dinner.
At dinner the flash mob did their song and dance in front of everyone, including the netball girls. The highlight was Fred getting involved.  More role playing – this time we were matched to someone and we had to help them with their dinner – a very interesting exercise. Another memorable moment was Luke Throne singing the Sponge Bob Square Pants song!
After dinner we had a round asking everyone what their highlight of the day had been  and what additional training they wanted. Volunteers who had been with IOE for a number of years were then nominated to run the next day's activities.
More in the line of personal development – we asked volunteers to compile a one page profile (similar to what we do with participants) as we want volunteers to be seen, not only as volunteers but as individuals. We hope that this strategy will help Rec leaders and others who support volunteers to build rapport and trust, thus forming a more natural connection as people with similar interests and passions and breaking down the 'them and us'.  More games and another very late night.
Up and ready for the days fun. Breakfast nice and early but again the netballers had beaten us having been for their early morning jog and ready for their day of exercises. The volunteers had planned an 'around the world' type game with 7 different stages, all designed for teamwork and to get you thinking.  It was great to see the future leaders of Interchange get up and run an activity.
Another round  – this time the question was "what makes you feel safe when you volunteer with IOE and what motivates you to continue to volunteer and be part of the bigger IOE family". Interesting answers.
Finally, we did a lot of cleaning up and got all the things together and headed home, stopping along the way to get some ice cream. Overall, a very successful and memorable weekend away.
Marcelo Calderon (Volunteer Coordinator)